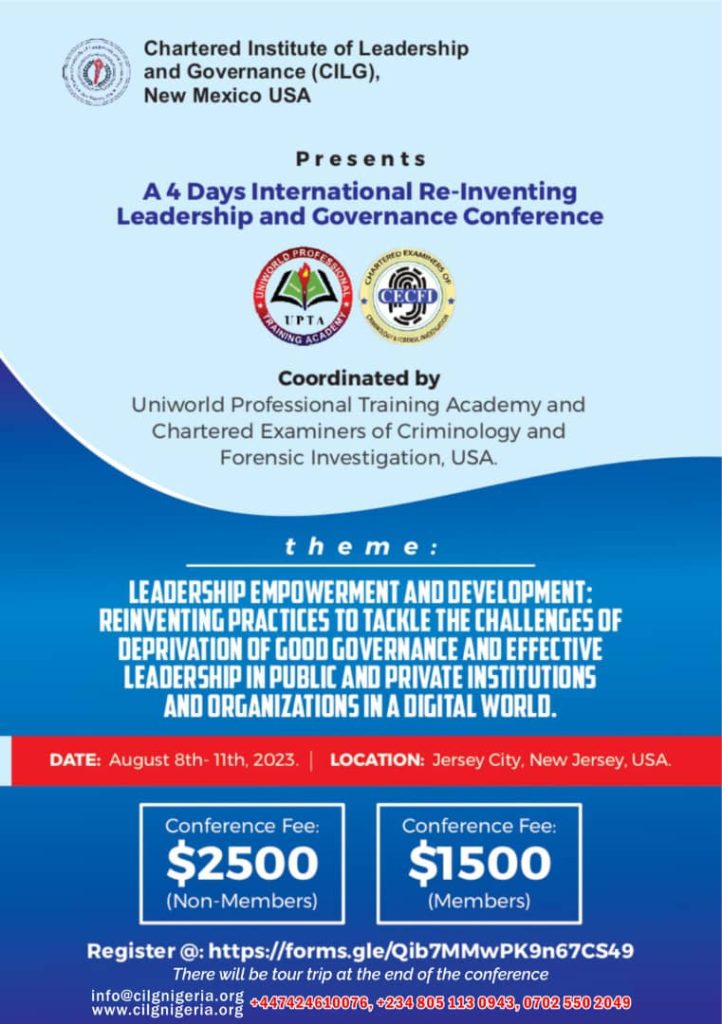 Theme: Leadership Empowerment and Development: Reinventing Practices to Tackle the Challenges of Deprivation of Good Governance and Effective Leadership in Public and private institutions and Organizations in a digital world.
FOUR DAYS OF LEADERSHIP AND GOOD GOVERNANCE PROFICIENCY DEVELOPMENT PROGRAM -JOIN OUR GLOBAL TEAM OF EXPERTS
Date: August 8th- 11th, 2023
Location: Jersey City, New Jersey, USA
Conference Fee: $1500.00 (Members)
Conference Fee: $2500 (Conference for Non- Members (Associated Organizing Organizations or Institutions).
Chartered Institute of Leadership and Governance (CILG) Conference, 2023, coordinated by Uniworld Professional Training Academy and Chartered Examiners of Criminology and Forensic Investigation, USA.
www.cilgnigeria.org
Register @: https://forms.gle/Qib7MMwPK9n67CS49
For further inquiry kindly contact the no on the banner or email info@cilgnigeria.org.